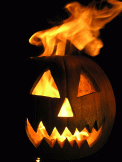 Well, happy Halloween, everybody!!! Also, happy birthday to Elf Rami- everyone's favorite little mischievous holiday sprite. Last night Jackbart came over for dinner with Mandy and I. We ate some yummy pot roast that Jajuan had prepared, and then we watched
Monster House
, which was an animated movie about some kids who discover that a house in their neighborhood apparently has been coming to life and eating people. It was a movie primarily geared toward kids, although it was pretty entertaining for adults and definitely helped to put me in more of a Halloween mood. Tonight we're supposed to be joining Andy and Rami for the Trey Anastasio show at Stubb's. Should be fun!
Also, apparently The Mono E will be playing a First Thursday gig at
Ben White Florist
, a flower shop which is actually located at 3200 South Congress Avenue, just south of Amy's Ice Cream, and on the same side of the street (not on Ben white). We're supposed to be playing from 5:30 p.m. until around 7:30 or 8:00 p.m., I believe, and we'll probably be playing below our usual volume level, so if you've been looking for an opportunity to bring your grandma to see The Mono E, this might be your best shot. The gig is part of the monthly South Congress First Thursday event (although the venue is outside of the Soco area which typically hosts a lot of the First thursday events), so we'll probably be pretty family friendly. Mostly.
Well, that's about it. I hope that everyone has a great, safe Halloween!!!!!